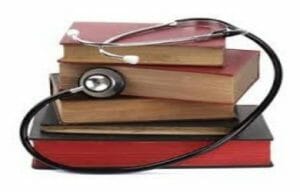 The lesser writings of Hahnemann include articles during his period of an allopathic physician also. A copy of lesser writing were handed over to Hahnemann himself by Stapf (1829) published by Arnold on the eve of Jubilee Celebrations of Doctorate of Hahnemann. But some more articles appears in this lesser writings collected and translated by Dr. R.E. Dudgeon. The works related with the chemistry and translations are included in the preface itself. The major among this are:
(i)  Directions for curing old sores & indolent ulcers.
(ii) Exact mode of preparation of soluble mercury.
(iii) Pharmaceutical Lexicon  (German name  of drugs Are used)
(iv) Fragmenta deviribus medica  mentorum positives  Sive in sano carpore humano observatis.

 
Translations
Thesaurum medicaminum
Materia medica of Albretch Von Haller.
Hahnemann's handwriting was also included in the preface.

 
Major Works in Lesser Writings
Instructions for surgeons for respecting Veneral diseases together with a New Mercurial preparation (1789).
This article has a preface on introductory part and two divisions and then a postscript. Out of the two divisions, there is a Part I & Part II writings. In Part I Hahnemann talks about Gonorrhoea, primary Gonorrhoea and the regular. In II class Hahnemann talks about Chanere. In part II Hahnemann deals with Syphilis proper with the new preparation of soluble mercury. 
Friend of Health (1792)
 In this essay Hahnemann says  in the preface itself that his words to be reckoned as the voice of a warm friend of his fellow creatures. The essays are:
PART I
(i)  Bite of mad dogs:
(ii) Visitors of the side:- Hahnemann says visiting patients of contagious disease has to be taken precautions and should not sit near the patients.
(iii) Protection against infection:-  Here talks about the contagious disease. Only way to prevent the spread is to keep the patient in well ventilated room; good atmospheric conditions etc. Visiting patients mind and body should be in good equilibrium. Fumigation vinegar has no effect.
(iv) Things that spoil the air.
(v)  Dietetic conversations.

 
PART II
(i) Socrates and Physon
(ii) Prevention of epidemics in town:- Sanitation, hygiene, living conditions proper building of houses etc are discussed.
(iii)  A nursery.
(iv) On the choice of family Physician.

 
Description of Klockenbring (1796)
Deals with the treatment of insanity to Klockenbring. He was suffering from ill humour , hypochondriasis melancholy and insanity. He was cured by the treatment of Hahnemann. Duke of Georgenthal gave all the help to Hahnemann for the treatment of Klockenbring.
Essay on New Principles for ascertaining the curative powers of drugs.
It is mainly about methodical human proving that Hahnemann talks in this lesson. He touches the contribution of chemistry to medicine especially in antipathic mode of treatment, then the folly of animal proving, doctrine of signature, botanical affinity of plants, accidental proving etc. He narrates specific medicine and individualization in this essay. Primary action and secondary action of drugs are also mentioned. So in short this essay stands closed to the details in the aphorism 105 to 145 i.e., about drug proving in the 5th edition of Organon.
A case of  rapidly cured colicodynea
Narrates a case of abdominal pain cured with Veratrum album.
Are the obstacles to certainty and simplicity in practical medicine is insurmountable.
It gives a detailed description about the Dietary advises to be given to the patient along with the change of habits in diet. Making a mention of mixed prescription and Poly pharmacy.
Antidote to some heroic medicine
He says that during his time vinegar was considered as a universal antidote. Emitics were used to antidot poisons.

 
Natural Antidots
Camphor             x                 Opium
Opium                 x                 Camphor
Cantharides         x                 Camphor
Squilla                 x                 Camphor
Cocculus             x                 Camphor
Mezerium            x                 Camphor
Arnica                 x                 Vinegar
Stramonium        x                 Vinegar
Ignatia                 x                 Vinegar
Veratrum alb       x                 Coffee

 

View of professional liberty at the commencement of 19th    century.

Cure and prevention of Scarlet fever.

On the effects of Coffee from original observation.

Aesculapius in the balance (1805).

Medicine of experience (1805).

Observations on Scarlet fever.

On the value of Speculative system of medicine (1808).

Observation on three current methods of treatment.

To a candidate for the degree of M.D.

Medical historical dissertation on Helleborism of the ancients.

Spirit of Homoeopathic Doctrine of Medicine (1813).

Treatment of Typhus fever or hospital fever at present prevailing (1814).

On the treatment of burns.

On veneral disease and its ordinary improper treatment.

Examination of common Materia Medica.

Preparation and dispensing of medicine by the Homoeopathic physician.

Contrast to old and new system of medicine.

Medical observer

How can small dose of such very attenuated medicine as Homoeopathy employs still possess great power.

A word of warning to all sick persons.

Cause and Prevention of Asciatic Cholera.

An appeal to the thinking philanthropist respecting the mode of propagation of Asciatic Cholera (1831).

Case illustrative of Homoeopathic practice.

 
Materia Medica Pura (Reine Arzneimi Hellehre)
First Edition
Six volumes of the first edition were published between 1811-1821.
Sixty one medicines were present in this edition besides magnet.

 
Second Edition.
Published between 1822-1827 – 6Vols, 64 medicines.
Third Edition.
Only first two volumes of  the 3rd edition is published in the year 1830 & 1833.
Hahnemann himself verified the earlier editions. Name of 35 provers are available besides Hahnemann.

 
Translation
English Translation.
Dr. Frederick Foster Hervey Quin, only first volume was printed.
Dr. Charles Julius Hempel.
Dr. R.E. Dudgeon.
Now available translation in two volumes. Dr. Richard Hughes helped Dudgeon who also corrected the proof.

 
Chronic  Disease (Die Chronischen Krankheiten)
First edition was published in 4 volumes between 1820-1830 by Arnold of Dresden. Theoretical part and Materia Medica part. It contains 22 medicines. Five of these appear in Materia Medica pura.
Second Edition
J.H.G Jahr completed the second edition. It was published in 5 parts between 1835 to 1839. Second edition contains 25 new medicines plus 22 medicines in the first edition. Out of these 25 new medicines, 13 were new and 12 appeared in Materia Medica pure. Total 30 medicines are newly proved appeared in chronic disease. Translated from German to English by Dr. Charles J. Hempel and later by Dr. Louis.H. Tafel (1835).
Contents of theoretical part.
Merit of Homoeopathy in the treatment of acute diseases.
Failure in chronic diseases.
Beginning was promising continuation less favorable out come hopeless.
Psora theory.
Psora most ancient, most contagious or infectious, most misapprehended, universal mother of all chronic diseases.
Symptoms of Latent Psora.

 
Cure Part
Cure of Psora.
Sulphur alone is necessary but in inverterate cases antipsoric remedies in succession.
Diet and Regimen.
Cure of Sycosis
Thuja alternated with nitric acid invertrate cases of warts – thuja- external application.
Cure of Syphilis miasm

    
Three stages
Chancre and bubo
Chancre and bubo absent with out complication with other miasm.
Complicated with other miasm.

 
Medicine is best mercurial preparation. Cure is confirmed by absence of scar in chancre area with the disappearance of the colour changes. The skin of healed chancre area will acquire the natural colour of skin.
In complicated cases first treat psoric miasm and then later, the other miasm