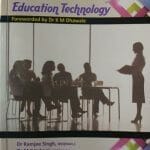 Book Review : Dr Mansoor Ali
Authors : Dr Ramjee Singh & Dr MK Sahani
Foreword by  Dr KM Dhawale
Published by Research Institute of Sahni Drug Transmission and Homoeopathy
Shivpuri, Ptana.800023
Email: risdth@gmail.com
The quality of homeopathic education is decreasing day by day. Professionally honest educators, who are genuinely interested in teaching, are decreasing day by day. Teachers are more interested in private practice and fabricated seminars which increase their income and popularity rather than regular classroom or clinical teaching. The love respect relationship between students and teachers are also at the minimum. There are many factors to blame.
The teacher thinks that, he is a paid employee and therefore his duty is only to teach in the prescribed period without knowing the pulse of the student. Thus students lose interest in the particular subject that is being taught
This book suggest various methods and techniques to improve the quality of education in Homoeopathic medical colleges through innovative methods of teaching and learning process.
Teachers directly coming into the profession after BHMS or MD (Hom) without  acquiring teaching skills, since we do not have courses like BEd or MEd. We may have good clinical skill but less teaching skill. Remember it is a skill that can be mastered only through practice.
Technology now open up new opportunities, making education more attractive, effective and result oriented.
Main Chapters are
Education in Homoeopathy – issues and challenges
Essential skills and abilities required for the study of homoeopathy
Skill required to be developed in Homoeopathy students
Teaching in materialism and dynamism
Teaching learning environment
The Medical teacher
Need for faculty development in homoeopathic medical education in India
Micro teaching
The learning process
Simulation and its role in medical education
Developing attitude for bedside skill
Teaching thinking skills
Communication skill
Problem based learning –PBL
Integrated teaching
Information technology in medical education
Lesson planning
Presentation skill
Interactive lectures
Other methods in teaching and learning
Internship in homoeopathic education
Medical education is somewhat different from general education. This book will definitely help the new generation teachers to a great extent. Font size may be increased in the next edition, and the logo in each pages create some difficultly in reading smoothly.
Price: 250/-
Pages : 131