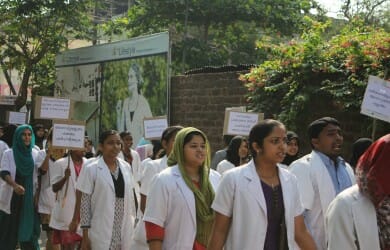 The postgraduate students of the Govt. Homoeopathy Medical College Trivandrum and Calicut are on agitation against the student enmity attitude of Central Council of Homoeopathy (CCH) and Government of Kerala.
Why the CCH taking adamant attitude against the students?
Kerala University of Health Sciences (KUHS) submitted the Examiners cum Guide panel to the CCH for the 2011 admission contains the names of 49 qualified teachers as per the council's norms. Only 8 names had been accepted by CCH !!  Because the list contains only Regular MD teachers. CCH wants to include the name of External MD teachers , but External MD is not an approved qualification in Kerala. Universities in Kerala and Kerala Government rejected this 'postal  graduation' as "it cannot maintain the academic standards expected of a PG degree in medicine". With this limited number (8) of Guides it is not possible to conduct the examinations to all the students in various disciplines.
CCH president and Secretary  along with CCH member from the Kerala University had a discussion with  Kerala Health Minister and Govt. Secretaries at Thiruvanathapuram recently. They also met Vice Chancellor of Kerala University of Health Sciences (KUHS) – their only demand – Equalize the External MD with regular MD- nothing else for the development of Homoeopathic education in Kerala.
The  2011-13 batch MD (Hom)  students  of  the  KUHS,  had   joined  their  MD   course  on    July 2011.  Accordingly,   they   are   completing  one year  and eight  months by  the end   of   February   2013 . As     per    their  syllabus  their  Part  1   Examination  was  due    by   the  end  of   December   2012. KUHS is not in a position to conduct the examination due to the inadequate number of guides in the CCH approved panel.
The scene behind curtain
The one nominated member from Kerala University creating the whole problem.  The tenure of that teacher  as CCH member representing Kerala University was over by many months. Still he is holding the office and receiving TA & DA and other benefits and creating so many problems to the career and prospects  of  PG students. We reliably know that many times he had strongly objected the approval of the KUHS Guide panel  in  CCH meetings – because his name is not in the KUHS panel. How can a university include the name of an unqualified person?
Continuation of that doctor as CCH member is a clear cut violation of Hon'ble Supreme Court judgment by CCH.
The supreme court  judgment is an end to all these type of stays .Which clearly states that …"No elected Member, shall hold the office of the President, Vice President or Member, beyond a period of three months from the expiry of their term – even when election is not conducted" – (WRIT PETITION (CIVIL) NO. 33 OF 2009 K.B. Nagur Appellant Versus Union of India )- Copy attached
Kerala High Court not directed him to continue as a CCH member.
But he crookedly obtained a stay for not conducting the election process in Kerala University stated that UG board is not reconstituted properly – with an intention to continue for a long time.
AYUSH had written several letters to the registrar in this matter – see attached letter.
Because of his lobbying work – Registrar of Kerala University, not reconstituting UG board…that is why election process unnecessarily delayed…even though Kerala High Court directed Registrar to take steps for re-constitution and election

one year back

.
He represented Kerala University more than 15 years….without any benefit to Homoeopaths of Kerala.
He is the only teacher in India who took External MD even though he is a service candidate in Organon of Medicine. He can now also take regular MD with full service benefits and promotions.
We had requested Kerala University registrar several times to elect/nominate a new member who has the efficiency to carry out the right mandates of the University at the Council with a greater academic insight and ability to foresee the future in Homoeopathic academic scenario.
No PG or UG admission in Govt. Colleges but OK in AIDED
From 2013 onwards Central Council of Homoeopathy or AYUSH will not permit to admit Undergraduate and Postgraduate students in Govt. Homoeopathy  Medical Colleges of Kerala because of the shortage of teaching  staff as per CCH pattern.
For post-graduation – one additional Reader / Professor in each subject is also required.
Prospectus of 2013 Kerala Homoeopathy PG entrance is ready, but Principal directed the Commissioner of Entrance Examinations to hold the PG entrance examinations.
CCH & AYUSH already had given relaxation for 2012 admission.
As per CCH pattern 43 teaching staffs are required per college. In Govt. Homeopathy Medical College Calicut, current staff strength is 29+1 including Principal. Similar situation in Govt. Homeopathy Medical College. Thiruvananthapuram also  – less than 35.
Three AIDED Homeopathy colleges have staff strength as per CCH pattern. Nemam Vidhyadiraja Homoeopathy Medical College has additional four Medical Officer posts also. But Government not so interested in the case of Govt. Homoeopathy Medical Colleges which have much more infrastructure and patients than any of the AIDED Homeopathy colleges in Kerala. Govt. already given double promotion to many teachers of Kottayam ANSS Homoeopathy Medical College to maintain staff pattern as per council regulations. They can admit students – but not in Government Colleges. They are getting many things on the basis of caste and creed, we are not against that. But Why Government neglecting Govt. institutes?.  
Some interesting questions (by the PG students of GHMCT in Social media)
Some questions to the principal of Govt. Homoeopathic medical College, Trivandrum
Who has the responsibility in the matter of PG students & stipend in your college?
Why and what is the reason in the delay of our stipend?
How much days an md student to take OP duty in a week?
Is there any faculty to teach MD students in your college?
Is MD course in your college recognized by CCH?
When will be the first and final year MD exams?
Is there any PTA meeting? (paid PTA fees)
What is the reason of three attendance register for PG students?
When will be this year's MD entrance examination?
Last and final is there any caroms tournament  in your college or your college staffs match nearby(seeing daily practice of your office staffs)
Nobody giving right answers...students are frustrated and agitated. We must think about their future and career.
Teachers' role
The salary of postgraduate teachers like senior professors in Homeopathic Medical Colleges (Aided & Govt.) of Kerala is around Rs.One Lakh Twenty five thousand. They are not taking classes to the Postgraduate students. But too strict on attendance factor. Majority of the undergraduate classes have been engaged by postgraduate students!.
What a sad news!
Whom to be blamed now ?
Why the CCH taking adamant attitude against the students?
The Policy makers, myopic administrators, teachers, members of the apex committees are all responsible for this sad state of affairs of the students in the Govt. Homoeopathy Medical College of Kerala
Letter from AYUSH to Kerala University Registrar : https://files.secureserver.net/4sJlr4UOM3i3x8