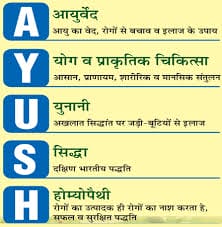 Hyderabad: Telangana State Ayurveda, Yoga and Naturopathy, Unani, Siddha and Homeopathy (AYUSH) will soon open 400 Ayurvedic clinics in the State.
Initially AYUSH will launch a massive campaign in 27 selected villages to propagate the importance of alternative medicine. According to sources in the AYUSH department, Ayush Life Style initiative has been taken up under National Ayush Mission and villages in Warangal, Karimnagar, Medak, Nalgonda, Adilabad, Khammam, Nizamabad, Mahabubnagar and Ranga Reddy have been designated as Ayush Grams.
A public health outreach programme has also been taken up in these villages. As a part of the Ayush Life Style initiative, the department wants to roll out the School Health Programme (SHP).
To create awareness among high school children in spreading the importance of alternative medicine in promoting healthy life style among the people. The department hopes to launch an intensive health programme.
Similarly, one village each from Warangal and Medak has been selected for rolling out Behaviour Change Communication (BCC). Explaining the multilayered strategy officials said that first, a door-to-door intensive household survey would be done in the villages to capture households' health data (HHD).
This will be followed by organising two medical camps in each of the selected village. Then, a Gram Sabha will be held to create awareness among villages about different kinds of common ailments for which preventive and curative medicines are available in their vicinity and which is economical and beneficial.
Young people selected as AYUSH Volunteers (AVs) from each village will be trained on symptoms of various common ailments and how remedies are prescribed in Ayurvedic medical system followed up with an on field training to the volunteers on how to identify medicinal plants and root species available in the vicinity of their village.
http://www.thehansindia.com/posts/index/Telangana/2016-12-19/AYUSH-to-launch-drive-on-alternative-medicines/269393