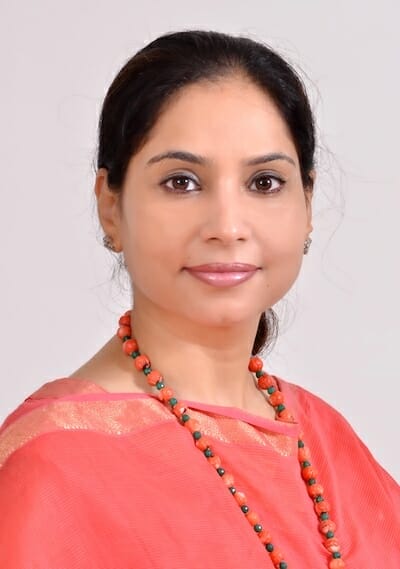 Dr Nandini Sharma has being elected as the new president of Central Council of Homoeopathy
Elections were conducted one year back, but the counting conducted on yesterday only. She defeated Dr Arun Bhasme by a margin of one vote. Dr Nandini Sharma got 21 votes and Dr Bhasme got 20 votes.
Dr. Nandini Sharma – a close associate of BJP, is a renowned Homoeopath Physician of South Delhi.  She took her BHMS from Dr. MPK Homoeopathic Medical College and internship at Nehru Homoeopathy Medical College, New Delhi, then he did her MD & PhD from Dr. MPK Homoeopathic Medical College & Homoepathy University Jaipur. Practising since 1991. She is a member of Central Council for Homoeopathy and Central Council for Research in Homoeopathy.
Dr. Nandini has been doing various camps for underprivileged and guiding them on "Nutrition", "Obesity","Breast Cancer","Yoga" etc. Runs her own Charitable Trust, "Dr. Nandini Sharma Charitable Trust" which helps in empowering women, computer training and free education to underprivileged apart from homoeopathic treatment. Dr. Nandini Sharma was also appointed as Chairperson World Homoeopathy Day 2016. Dr. Nandini is an editor of the homoeopathic magazine "SDHA Chronicle". She is Secretary "South Delhi Homoeopathic Association" & "Executive Member" of "LMHI (Indian Chapter)".
She is also an honorary homoeopathic physician at Rashtrapati Bhawan since 2001. She is a member of the Standing Finance Committee of Central Council of Research in Homeopathy.
She is also a member of Public Relation Wing and Epidemic Wing of LIGA Medicorum Homeopathica Internationalis.
Meanwhile, Dr Arun Bhasme is planning to move a case in the court – on the ground that elections were conducted one year back so that many new members were unable to vote in the election. Dr Ramjee Singh completed his two tenure of five years each as CCH president. But he filed a case in order to get one more year extension, based on some loopholes in the CCH Act.
Ph : 098914 90973
facebook pages :
https://www.facebook.com/DrNandiniBJP/
https://www.facebook.com/dr.nandini.sharma.clinic/
Please give our new CCH president a good applause.