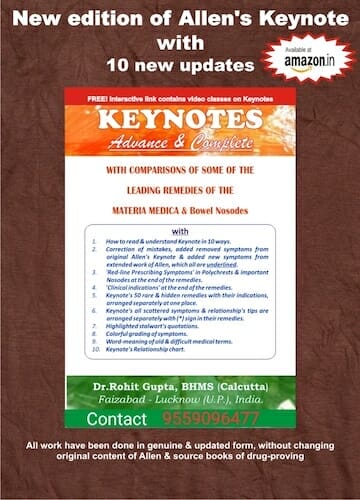 Author – Dr Rohit Gupta
This new edition of old Allen's keynote-"KEYNOTES ADVANCE & COMPLETE" with 10 New Updates, includes correction of printing mistakes, "missing symptoms" of the Original Allen's Keynotes published during the lifetime of Dr.H.C.Allen during 1889, which were somehow missed being published in the Indian Edition and new symptoms of Allen's extended work which were published after his death.
These rare, updated and precious symptoms are incorporated in this edition.
(In this book, the problems of all the homoeopathic students and new homeopathic doctors have been resolved, which is not stated at any homeopathic college till date. So, it is both clinician and student friendly.)
Student friendly:
1. Dictionary of A-Z old & difficult Medical terms, those terms which are not present in current medical dictionary.
2. Still not a single book is present on Keynote which had discussed on how to read this book in right way, first time It have 10 ways of reading.
3. Various colors used to differentiate the different aspects of symptomatology.
4. Glossy paper, the best paper quality which prevents getting wet easily and being damaged.
5. It will help to remember Allen's Keynote in a correct way for preparation of competitive exams.
Physician friendly:
1. Clinical indication has been charted in all remedies at the end of remedy for saving time on single present complain.
2. Red line prescribing symptoms section has been added in polychrest and Nosode for constitutional treatment.
3. 50 rare Medicine with One-line indication has been charted separately from the content of the book, with reference.
4. Relationship chart has been made for easy second prescription.
5. Free interactive link contains videos on keynote.
All work have been done in original &  updated form, without changing original content of Allen & sourcebook of drug proving.
Inaugurated by Director & Deputy-director of Homoeopathy of U.P. on 14 August,2018 & published in various newspaper on 15 August,2018.
Available at Online on Amazon
And Offline at 9559096477.