Dr Mansoor Ali
Appointment software is an essential part of Clinic management. Doctors and patients can utilise this effectively.  Small medical practices or solo practitioners might not have the budget for a costly appointment scheduling system. Trail versions are not useful.
Today we will discuss some free and easy to use appointment software with a simple interface. No need to purchase costly software.
1.Facebook Appointments
More than 2 billion individuals using Facebook
If you have a Facebook page (not profile) it is very easy to set an appointment link.
Go to your Page, then click on 'Appointment settings'.
Set your clinic timings and slots for each patient.
You will get a "Share Booking Link" also that you can share on your facebook, WhatsApp, website or to your clients.
You can set Appointment approval, SMS notifications and Customer reminders also in the 'settings' section.
You can reschedule or cancel the appointment also.
You can have multiple blocks of time each day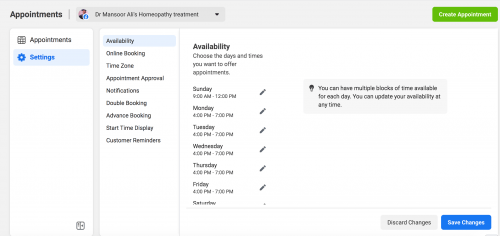 More details : https://www.facebook.com/help/233101683907312
Tutorial video : https://youtu.be/qyQjF4QUWy4

2.Picktime
Pick time is ideal for doctors looking to move away from manual scheduling to a more automated system.
Picktime is a completely free solution.
It is simple and extremely easy to use.
Even though this is a free platform, they are giving instant support via chat and mail. So hassle-free installation.
This can be integrated simply into your website also. If you have no website they will give you a landing page and link that can be shared to all platforms.
Website : https://www.picktime.com/
Demo video : https://youtu.be/E7HFwpfuN0E