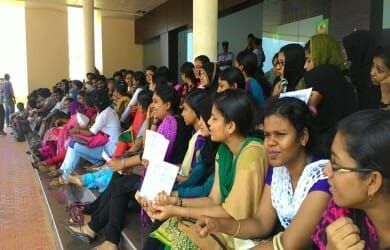 BHOPAL: First batch of Government Homoeopathy College here are running from pillar to post to get the fees of their course regularised and also to get stipend from the college. A memorandum was submitted to the principal secretary, Ayush on Thursday.
Dr Prashant Singh informed that for the first time in the state, post graduation course in homoeopathy was started in Government Homoeopathy College. In the first batch 55 students took admission.
During the admission they were asked to sign the Rs 10 lakh bond and told the fess were yet not decided but the 'non proposed fees' would be Rs 5 lakh and 1,000 for three years and it would  be decide later after the admission. Importantly, a stipend of Rs 45,000 was also to be paid to them
It is alleged that almost five months have passed yet the college has not decided the fees and also the students are not being given the stipend. The students have left their jobs and shut their clinics to take admission in the course, but due to nonpayment of the stipend they are facing serious problems.
The students also alleged that the college management was not paying attention on their problems. They also fear if the college ask them to pay Rs 5 lakh and 1,000 for the course they won't be able to do so.
Government homoeopathy colleges of various states were charging very less, the students said. National Institute of Homoeopathic Medical College, Kolkata is charging just Rs 95,700 for the course and Jawaharlal Nehru Homoeopathic Medical College, New Delhi charges Rs 21,000 for three years. Even Khushilal Sharma Ayurvedic Medical College, Bhopal is charging Rs 1,21,000 and Gandhi Medical College is (MBBS course) having fess of Rs 1,19,000 for three years.
http://www.freepressjournal.in/bhopal/bhopal-government-homoeo-college-students-dont-get-stipend-fee-structure/1047844