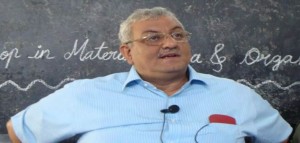 Meet the Homeopathic Legend Dr Farokh J. Master at BOMBAY HOSPITAL on 10 & 11 Jan. 2015
Seminar on 'Acute Pathology & Advanced Cancer'
Date: 10 & 11 January 2015
Day: Saturday and Sunday
This two-day homeopathic event is open to everyone with a professional, consultants and PG & UG scholars, as well as teaching faculties of homeopathic medical college. Free to attend, the seminar will be supported by an exhibition of the latest products and services from Homeopathic Pharmaceuticals and Publishing Department.
Speaker: Dr Farokh Master, India
Topics:
Homeopathic Management of Advanced Cancer Cases
Management of Acute Pathological Conditions.
Objectives of seminar:
The objectives of the seminar are to provide you with an opportunity to:
Upgrade your knowledge by being exposed to relevant clinical cases from Dr Master's own private clinic and Hospitals in Mumbai and Pune
Add value to you in your daily clinical practice in 'Acute Pathology & Advanced Cancer'
Provide you with an opportunity to learn and meet the homeopathic legend Dr Farokh J Master.
Expose you to the source books in homeopathy for classical prescribing.
How to use SYNTHESIS Repertory and Radar Opus.
Venue:  Bombay Hospital, Marine Lines, Mumbai
A Certificate of Attendance will be issued to all delegates.
Delegates to make own arrangement for Lunch, accommodation & transport costs. There is no Registration fee for attending this Exclusive seminar with Dr Farokh Master.
Organized by
International Foundation of Clinical Research in Homoeopathy and Charities
of Homoeopathy, Bombay Hospital
of Homoeopathy, K. E. M. Hospital
of Homoeopathy, Bai Jerbai Wadia Hospital
of Homoeopathy, Kamalnayan Bajaj Cancer Center
Ruby Hall, Pune
Radar Opus, Archibel S. A. Belgium
Jain Publishers & Pharmaceuticals Pvt. Ltd., New Delhi
Center of Advance Study in Homoeopathy (C.A.S.H.) New Delhi, India
How to Register:  The participants/delegates may register their name by sending a mail at
Dr.Sneha Parikh – 9819604470
sneha.shah2304@gmail.com
Dr.Khyati Patel – 9960889263
patelkhyati99@yahoo.com
After receiving your email, Our organizing team will send you a confirmation mail/sms with the registration no. and other details.
Last Date of Registration: 31st December 2014
We hope that you will be able to attend this important seminar in pursuit of maximizing your own expertise in homeopathy in Acute Pathological and Advanced Cancer cases.
Dr Ashish Kr Jha
Head: Educational Training and Research Advancement
Radar Opus, A Product of Archibel, Belgium
www.radaropus.com I www.bjain.com
Tel: + 91 11 4567 1000 I Cell: 09310845809