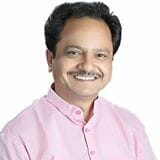 Homoeopathy Doctor Manoj Rajoria BHMS, MD (Hom) has been elected to Indian Parliament
Whole Homoeopathic Fraternity in India  is proud of  Dr.Manoj Rajoria from Rajasthan.
We congratulate you on your success and becoming MP, You will be the voice of thousands of Homoeopaths in the Parliament. You are a dedicated Homoeopath and we know you will work for Homoeopathy too.
Dr Manoj Rajoria, Candidate of 15th Lok Sabha, Affiliated to Bharatiya Janata Party (BJP) serving Karauli Dholpur (RJ) Lok Sabha Constituency.
He took his BHMS from Dr. M.P.K. Homoeopathic Medical College Jaipur
Post Graduate Homoeopathy from  Rajasthan University in 2006
Mobile Phone :  096 67 211234
Website : http://www.drmanojrajoria.com
Email : manojrajoriabjp@gmail.com
Age: 39
Address:  320,Tagore Nagar,Chitrakoot Marg Ajmer Road. Jaipur