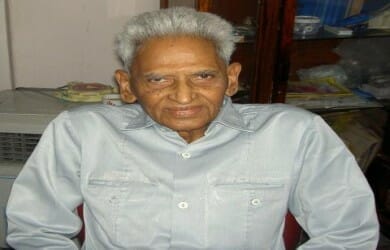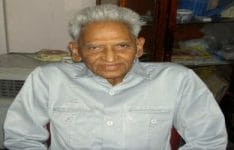 Dr.G.L.N.Sastry, (83 ) President of Honour, Indian Institute of Homoeopathic Physicians ( I.I.H.P.) and Chairman of the Syama Krishna Sai Charitable Trust, Hyderabad passed away peacefully on 2nd April 2013 at his residence in the midst of his family members. He was born on 15th August 1930 at Akiripalli village of Nandigama Taluk, Krishna District, Andhra Pradesh and grew up at Ambarupeta  and pursued his school studies. In 1947 he joined Andhra Provincial Homoeopathic Medical College, Gudiwada ( now Dr.Gururaju Govt. Homoeopathic Medical College ) and studied homoeopathy under the guidance of Dr.Gururaju and Dr.Rama Murthy and obtained Diploma in Homoeopathic Medicine (D.H.M.). The brilliant cures demonstrated by his teachers at the bed side had convinced him about the efficacy of homoeopathy. He witnessed the gun shot prescriptions given by his teachers in acute cases viz., Typhoid, Malaria Fevers etc. The patient based learning at the bed side had a deep impact on his mind and without second thought he started his practice at Miryalaguda, Nalgonda District. 
Struggle for Survival:
Born in a family of freedom fighters, he too keenly involved in the freedom struggle as a student activist and faced the wrath of the police and the government. On one side he waged a war with the state government for recognition of the diplomas awarded by the college and on the other hand he struggled to survive in the society through his private homoeopathic practice. His struggle for the recognition of the qualifications lead to the introduction of a bill on Homoeopathy in the A.P.Legislative Assembly and subsequent official recognition.
A keen observer, a great listener and an astute prescriber he  proved his mettle in a very short time in the clinical practice. His excellent prescriptions in the prevention of Hemorrhagic Small Pox with Crotalus Horridus and Cholera with Veratrum Album, Arsenicum Album and Camphor brought name and fame in a short time. When there were no vaccines for many diseases in 1950-1960, he successfully introduced homoeopathy in the public health programs. This rich experience lead him to devise a strategy for the prevention of the dreaded epidemic disease Japanese Encephalitis in 1999. 
Architect of B.C.T.:
When the Japanese Encephalitis (J.E.) Epidemic ravaged Andhra Pradesh in 1979 he along with his medical staff and doctors visited the epidemic affected areas of Anantapur District and distributed Belladonna. This exercise continued even in the subsequent years. But there was no consensus in the drug of choice. Some doctors advocated Opium, Helleborus, Stramonium etc as preventives. He sought a consensus among homoeopaths and emphasized the need for a radical approach towards this disease. The Brain Fever epidemic temporarily came down but in the subsequent years it continued to show its virulence. Since 1990 it had become an unmanageable problem. Between 1993 and 1999 recorded J.E. cases were 5308, and 1511 children died. The Government sought the help of homeopaths in combating this epidemic in 1999. At that point of time Dr.Sastry viewed this disease from the holistic point of view and explained the tendency of recurrence of J.E. from the miasmatic angle and advocated a unique way of prescribing the Belladonna on 1,2,3 days  one dose each, Calcarea Carb 200 on 10th day and Tuberculinum 10 M on 25th day were administered in a phased manner to all children in the age group of 0-15 years in the month of August every year for three consecutive years. Symptom similarity, complementary relationship, virulence and underlying miasms were taken into consideration while selecting these drugs. This project was named as B.C.T. After its commencement in 1999 the mortality and morbidity rates of J.E. fell drastically. 343 cases were reported in 2000 with 72 deaths, in 2001 only 30 cases with 4 deaths, in 2002 only 18 cases but no deaths, in 2003 and 2004 no cases were recorded. The Government had acknowledged the efficacy of homeopathy. This is the first major involvement of homeopathy in the field of prevention of epidemic diseases in our country. Neighboring states which have not adopted this method continued to show higher incidence of J.E. cases. After witnessing the decline in India other states and nations are showing keen interest in this innovative method. This first ever large scale study of homoeo prophylaxis had attracted the attention of both government and the scientists. Though this study did not satisfy the scientific community and the allopathic counterparts, the results could not be rejected. Subsequently the Central Council for Research in Homoeopathy took up the task of in-depth research on this work. He attributed this success is due to team work and cooperation of all his professional colleagues. 
Research on Belladonna & Japanese Encephalitis:
The A.P.model of prevention of J.E. through B.C.T.drugs was presented during the 60th World Congress of Liga Medicorum Homoeopathica Internationalis in Germany in 2005. The world homoeopathic community appreciated the work. Subsequently to test the real efficacy of the Belladonna in prevention of the Japanese Encephalitis, the Indian Govt. granted an extra mural research project to the Dept.of Microbiology, Virology Unit, School of Tropical Medicine, Kolkata. Dr.Bhaswati Bandyopadhyay had conducted experiments on two models – JE pock formation on Chick Chorioallantoic Membrane (CAM) and JE infection of suckling mice by intracerebral route where mother of the litter was treated with Belladonna. Both experiments conclusively indicated that Belladonna got a definite role in preventing JE. However the mechanism is still unknown and further studies are required in this direction. Dr.Sastry urged the scientists to work out on the other two drugs i.e.Calcarea Carb and Tuberculinum to tap the potentialities of these two drugs in the immune modulation. His disciples have taken up this work on the B.C.T.and making in-depth study of this work and presenting a paper in the forthcoming H.R.I. Conference in Barcelona,Spain on 31st May 2013.
Nagpur Declaration on preventive programs:
Dr.Sastry always believed that the future of homoeopathy lies in the involvement of homoeopaths in the National Health Programs and Epidemic and Endemic prevention programs. He always tried to take homoeopathy to the rural masses through innovative programs viz., Homoeopathy for Masses. He emphasized that women and children comprises of 70 percent of the population and the government should involve homoeopaths in health care delivery system. This concept was well appreciated by many and later the Govt. of India and the C.C.R.H. had launched a National Campaign on Homoeopathy for Mother and Child Care.
During the 17th All India Homoeopathic Congress held at Nagpur in 1997 he emphasized the importance of Homoeopathy in the preventive programs and the policy to be adopted by the Govt. of India. The Indian Institute of Homoeopathy Physicians represented the matter to the Union Govt. and the suggestions given were incorporated in the National Policy on Indian Systems of Medicine and Homoeopathy in 2003. 
Indian Institute of Homoeopathic Physicians:
Dr.Sastry's was inspired by Late Padmasree Dr.K.G.Saxena in organizational matters and continued the legacy of the crusader for the cause of qualified homoeopathic practitioners in India. The All India Institute of Homoeopathy (A.I.I.H) was formed in 1944, which later renamed as Indian Institute of Homoeopathic Physicians (I.I.H.P.) in 1980. Dr.Sastry accompanied his guru Dr.Gururaju and witnessed the proceedings of the 2nd All India Congress held in Lucknow in 1952 and inspired by the speeches of Padmasree  Dr.K.G.Saxena and his commitment for the cause of homoeopathy. He joined in the organization and actively participated in the association till the end. Ever since he took the mantle of I.I.H.P. he served as Secretary General, President and President of Honour for three decades and played a crucial role in strengthening the organization. 
Govt.Service:
He joined in A.P.State Govt.service in 1964 and established the first Govt.Homoeopathy dispensary at Nalgonda. Later he was transferred to Jambagh Homoeopathic Hospital, Hyderabad. He was instrumental in developing the Govt. Homoeopathic Hospitals at Malakpet and
Motigally, Hyderabad. He always demonstrated the tenets of homoeopathy to the students at the bed side. Some of his excellent papers  Ruta and Epilepsy , Management of Fevers , Kent's Relationship of remedies, Pulse of the Nation, B.C.T. and Japanese Encephalitis, Arsenicum Album etc are some of his writings. He started the official journal of I.I.H.P. "Rational Medicine" and was the Managing Editor for several years. He retired from government service in 1988 and remained as private practitioner till the end. 
Member C.C.H. & C.C.R.H.:
He got elected as member of the Central Council of Homoeopathy from Andhra Pradesh in 1989 and worked in various committees. He was nominated to the Scientific Advisory Committee, Central Council for Research in Homoeopathy and Homoeopathic Advisory Committee 8th Five year Plan, Ministry of Health and Family Welfare, Govt. of India. Whatever the position he held he contributed his might and suggested various measures to the Govt. for the development of homoeopathy.
An octogenarian homoeopath who practiced homoeopathy for 60 years on Hahnemannian lines left a great void. He preached what he practiced and had shown how relevant the principles of single dose and simple prescription work wonderfully even in the present context. In the mundane world of polypharmacy and patents in the prescriptions he vehemently opposed all those unethical practices and condemned them. He advised the younger generation to be careful about such unscrupulous practices and practice homoeopathy in its pristine purity. 
S.K.S.Trust Charitable Trust:
An ardent devotee of Satya Sai Baba, he participated in many health camps conducted by  Satya Sai Seva Samithi. To carry out his work in the public health programs Dr.Sastry started a charitable Trust in memory of his parents Syamala & Krishna Murthy and Bhagwan Satya Sai Baba. He devised certain strategies for the school children through homoeopathy. He had established an endowment Gold Medal in the Dr.N.T.R.University of Health Sciences, A.P. for the topper of the Post Graduate studies in Homoeopathy in Andhra Pradesh.
In recognition of his contributions to the society in general and to the profession in particular he was conferred with the "Padmasree Dr.K.G. Saxena Life Time Achievement Award "on 2nd October, 2012 at New Delhi. Homoeopaths from different parts of the country and abroad condoled the death of Dr.Sastry. The print and electronic media had widely covered the event and paid rich tributes. In his death, the nation has lost a veteran homoeopath, visionary, architect of B.C.T. concept, a distinguished personality and above all a great teacher. He left a rich legacy of values in personal and professional life which the young generation has to adore and adopt. May His soul rest in peace.
Dr.G.Srinivasulu, Asst.Professor,
J.S.P.S. Govt. Homoeopathic Medical College, Ramanthapur,
HYDERABAD – 500 013
09440203747
-mail:srinivasulugadugu@gmail.com