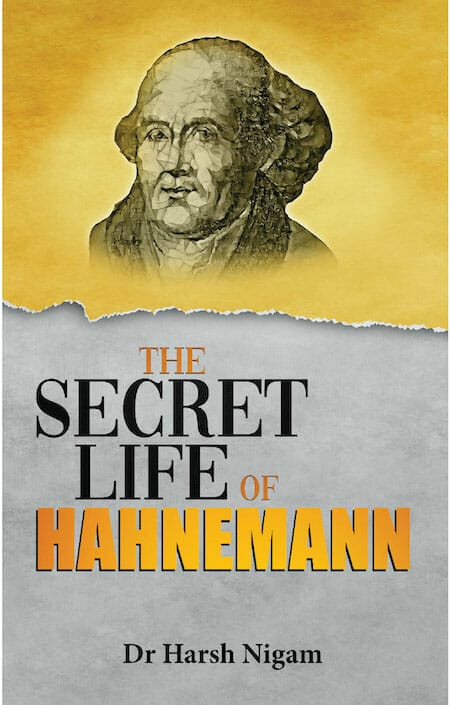 Reviewed by Dr Mansoor Ali
We have read many life histories of stalwarts including Hahnemann – but this book is different., extraordinary. Every professional and student of Homoeopathy must read this book. The entire story is covered in 37 small chapters precisely, interestingly and beautifully so that the very point will be in the mind of readers. We can read the entire book in a single sitting like reading a novel.
This book by Dr Harsh Nigam MBBS is an effort to expose to the homoeopathic world the unknown known of our master. An attempt to showcase the way Hahnemannian worked, the wisdom with which he swayed in his tasks.
This book describes Hahnemann's life in 5 epochs –  Training Years, Experimental Years, Struggle years, Master Years and Splendid years.
This book will help us to gain insight into how Hahnemann worked, developed a holistic system of medicine and faced all the challenges that came his way.
Dr Hahnemann wrote more than 70 original works in Chemistry and Medicine besides his 24 important translations.
This book is also useful to those who are preparing for various examinations at the college or national level. I recommend this great work to all the students, teachers and professionals in Homoeopathy.
The sincere efforts taken by the author in extensive research and compiling the data from different sources are worthy of commendation.
"Hahnemann, a small thick-set man, constrained in his gate and bearing, with a bald head and a high, beautifully formed forehead. The powerful structure of his face, his square jaw, the almost incessant palpitation of his nostrils, the quivering of the corners of his mouth."
"The end cam on 5 am Sunday, July 1, 1843 at 89. Body embalmed by Annal, the most up-to-date embalmer in Paris, and remained alone in the house with her dead husband for 11 days…
A beautiful chapter with pictures of his institutions – An enquiry into Hahnemann's development from a student till the discovery of the Homoeopathic system
Main Chapters 
The making of the idol of Hahnemann
Five Epoch of Hahnemann
How Hahnemann worked
The wisdom of Hahnemann
Gleamings rom Hahnemann
Hahnemann's family
Philosophy Medicine and the Aufklarung
The conceptual foundation of Homoeopathy
The appearance of Organon
The transformation of Organon
Hahnemann and the academy
Evaluation and Revaluation of Homoeopathy
Father of modern experimental pharmacy
Father of modern pharmacotherapeutics
Pioneer of Homeostasis
Pioneer of multifactorial causation o disease
Father of modern hygiene
Hahnemann the pioneer of psychiatry
First to sign microbes as the cause of cholera
Father of nano medicine
The moulding of Hahnemann's mind
An enquiry into Hahnemann's development from a student till the discovery of Homoeopathy system
The freemasonic end
The Hahanmennian code
Hahnemann's fellow provers
Bibliography of Hahnemann's work
Author
Dr Harsh after finishing MBBS from B.R.D. Medical College, Gorakhpur, completed his M.D. in Human physiology from M.L.B. Medical College, Jhansi. His first exposure to Homoeopathic way came under his scholarly and renowned father Dr Jagdish Chandra Nigam DF (Horn.) from 1993-95. In 2001-2002 Dr Harsh completed MF (Homoeopathy.), from the faculty of Homoeopathy the Royal London Homoeopathic Hospital, U.K. He has since published several papers like:
Homoeopathic Management of Chronic Renal Failure; Drug picture of Carcinosin; Retrospective Study of Homoeopathic Management of Urolithiasis Assessed by Ultrasonography; Psoriasis & Homoeopathy, (Homoeopathic Heritage)
Childhood Care: What Homoeopathy Can Offer? (CCRH/AYUSH)
20 volume series of articles in the section Organon Only of Homeobuzz magazine
Study of the efficacy of genus epidemicus in epidemic of chikungunya fever at Kanpur: presented at 66th world homoeopathic congress of LIGA.
Lectures on Homoeopathic Philosophy with Classroom Notes; Principle & Practice of Homoeopathic Case Management both by B. Jain Publishers, New Delhi
Hahnemannography (Sharnam Homoeopathy Research Society)
He is currently a member of the Special Committee of clinical research at the Central Council for Research in Homoeopathy, New Delhi.
Pages 265
INR : 293
ISBN : 9788131923672
Published by Bjain Publishers New Delhi
Purchase online : https://www.bjainbooks.com/product-detail/the-secret-life-of-hahnemann