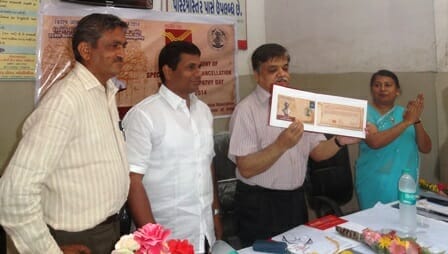 Special postal cover and cancellation released by department of post on Hahnemann's birth anniversary
Keeping the track of celebrating Dr. Hahnemann's birth anniversary in the  most  unique  method;  the  homoeopaths  of  city  of  Vadodara  in  Gujarat  celebrated Dr. Hahemann's 259th  Birth Anniversary in the most unique fashion.
This year on 10th  April 2014 a SPECIAL POSTAL COVER was released
from Vadodara Head Post office. This commemorative cover is titled as "259th  Birth Anniversary of Father of Homoeopathy" It has the picture of Statue of Dr. Hahnemann which is installed at a square in Fatehgunj Area of Vadodara.
The road nearby this statue is also named as "Dr. Hahnemann Road". The pictorial Cancellation features Globules arranged in a circle, the picture of Banyan Tree (Vadodara  is  famously  known  as  city  of  Banyan  Trees),  statue  of  Dr. Hahnemann and calendula flowers. The date of this cancellation is 10-04-2014. The postal stamp upon which this cancel is put also features flowers, most common sources of Homoeopathic Medicines.
This cover is approved by the Department of Posts Gujarat Circle. It was released by Post Master General of Vadodara Region Shri B .B. Dave in a ceremony  held  on 10th   April  2014  morning.  Dr.  Rajesh  Shah;  President  of Mahagujarat Homoeopathic Medical Association received the first copy of this cover. Dr. Hitendra Patel President of Homoeopathic Medical association of India, Vadodara Unit also  accepted  the cover from the Department  of Post authorities. Shri Dave appreciated this effort from Homoeopaths of Vadodara to have felicitated the Father of Homoeopathy in the most unique manner.
In the Evening students, Practitioners, Principals, Teachers and Trustees of Homoeopathic Colleges in and around Vadodara gathered in large numbers to  felicitate  this  unique  souvenir.  Shri  Manibhai  Shah  (President,  Paradise Foundation)  and  Dr.  Jyoti  Pandya  (Homoeopath  &  Ex.  Mayor  of  City  of Vadodara) conferred this cover to the Homoeopathic Fraternity.
The concept and design of this cover was done by Dr. Ankur Desai, Dr. Saurabh  Shah  and  Dr.  Rajesh  Shah.  It  was  proposed  by  Mahagujarat Homoeopathic Medical Association and Homoeopathic Medical Association of India. There are only 5000 covers available.
Any Homoeopath or Homoeopathy loving person interested in obtaining the copy of this unique souvenir should contact  on     ankoordesai1@yahoo.com ,  dr_saurabh_shah@yahoo.co.in, nikir@nikir.com