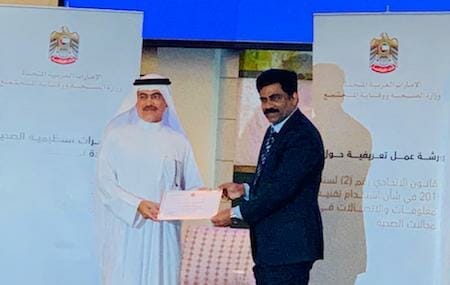 Dr PK Subair, Kerala Homoeopath practising in UAE since 2003 receiving the award of appreciation from Dr.Amin Hussain Al Amiri Undersecretary to Ministry of Health and Prevention UAE for the efforts and contributions to improving the quality of Healthcare in UAE.
He is an active member of Indian Homoeopathic Medical Association and Alumni of Govt Homoeopathy Medical College Calicut Kerala. He is working at Al Fida Medical Centre Karama Dubai
Big thanks to UAE government and Dr Saifulla for considering Dr Pk Subair and Homeopathy system also along with mainstream medicine doctors and appreciating our efforts in Healthcare of people of UAE.
UAE Government approved the practice of Homoeopathy in the country at the beginning of 2001. A separate section was established under UAE Ministry of Health (MOH) for Complementary and Alternative Medicines. A qualifying examination is held by MOH about three times a year.
These type of appreciation may open up Govt Jobs in UAE in addition to private practice as GP or working in polyclinics.