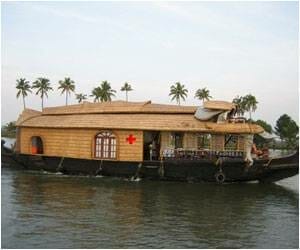 Hats off to the Department of Homeopathy, Government of Kerala, India.
The Floating Homoeopathy Dispensary, Kuttanad, Alappuzha in Kerala will be inaugurated on 29th Dec 2013, at 10 am by Shri V. S Sivakumar, Hon'ble Minister for Health, Family Welfare and Devaswom, Govt. of Kerala.
We congratulates the efforts of the Dr Jamuna ,Director, Dept. of Homoeopathy, Dr. Gopalapillai Gopakumar, Project Officer, Floating Homoeo Dispensary, Dr Deepu Dev, Medical Officer, Floating Homoeo Dispensary and Dr Shameena Salim, Medical Officer, Floating Homoeo Dispensary.
This will give benefit to more than 2 lakhs residents at Kuttanadu islands in Alappuzha – serves as an immense fortune to locals.
This dispensary will be equipped with two Homoeopathy Medical Officers, Pharmacist, Attender and enough medicines.
This floating dispensary will reach 30 boarding points with 3 hours in each destination.
The initiative of converting a vessel into a hospital has benefited the children and elderly living around  backwaters, as it is difficult for them to visit hospitals located on the mainland.
The islands in the rural area are remotely located and no vehicle can reach there. Patients face difficulty as it is surrounded with water. The floating hospital is of great help to them.
Nearly 20 small and big islands near Kochi and around 11 islands near Alleppey have benefited from the mobile hospital.
The mission aims to improve the availability and access to quality health care for people, especially poor women and children residing in rural areas.