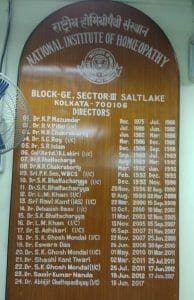 Why Directors are not surviving in NIH 
Dr Mansoor Ali 
Just see the list and tenure of Directors of National Institute of Homoeopathy. Kolkatta from 1975. Majority of them quit/retired without completing their 5-year tenure.
In the history of NIH only first and the last director completed their 5-year tenure.
Politics countermand Academics in NIH
Last time the NIH campus seems to be in total turmoil during his entire tenure. Teachers and students counted it as "Autocratic" period.
Not much academic improvement, no new projects, no new appointments and even many teachers denied their timely promotions.
The sad thing is that students were on hunger strike for 134 days. During that period students had knocked almost all doors of all political parties & concerned officials too.But that strike got stuck. More than 20 complaints were lodged with the police against students by the director SK Nanda.Criminal cases against the students are still continuing in court, even though they completed the course and reached home. Director told that he tried his level best but students and faculty not co-operated.
NIH OPD is the largest homeopathic OPDin India. Patients are coming from even neighboring states. Many eminent teachers are here in Past and Present.
The number of patients in inpatient department has dropped from 1,012 in 2009-10 to 802 in 2012-13 and 611 in 2014-15. The monthly average of bed occupancy at the IPD is abysmally low at 30.7 per cent.
But a coordination between Director – teachers, students and clerical staff still lacking in this premier Institute – especially last 5 year.
It is not easy to get appointed as Director of NIH. Because norms are so stringent by the Ministry.
The Ministry recently invited application for the new director. Let see who will take charge, how he will manage and how long he will survive at NIH. Let us hope everything will be OK in this pioneering Institute of homeopathy – Adminstrtaors,teachers,students and even clerical staffs must work in harmaony for a better NIH.
Also read: http://timesofindia.indiatimes.com/city/kolkata/Kolkata-homoeopathy-hospital-in-sick-bay/articleshow/48322978.cms
https://www.facebook.com/hokprotibadnih/
Photo courtesy : Abhiram Banerjee